</P>
xxx Road & MaBell August 2000
Story by Ted HTML by Bob Blair
Photos by Susanne, Joan Blair & Chen Handali
Jim Guld led the xxx Road run, and I tailgunned it. Also on hand were Bob and Joan Blair in the Howler (they actually led the ride back down), Chen in his new 2000 TJ sporting a brand new 4.5 inch lift and 35 inch MTRs, Paul and some buddies in a moderately lifted and rear locked Mitsubishi, Jim in his mildly lifted XJ, Doug & Bark (with Doug's wife Joyce) in his now very serious lifted, locked, and winch equipped XJ, and of course yours truly, along with Lucy the tree eating dog and Susanne my co-pilot. We had a great day for xxx Road, and since the major carnage-miesters were off breaking their rigs in Tellico, the weekend was fairly damage-free.
xxx Road is a fairly narrow, rutted, obstacle laden old county road. Although there were only about three or four obstacles that seriously challenged anything running 33s and lockers, you just canít relax while driving, lest you catch your diff on a sneaky rock or spin a tire in a deceptive rut. The first obstacle was a huge rock jutting up in the middle of the trail presenting lines to the left or right - with the right line almost guaranteeing wrecking the top of your rig as you tip into a cliff face on the right. Everyone made it through without too much of a problem, but the Mitsubishi bounced some undercarriage parts off some rocks, a pattern that would continue through both trails.
Jim's keeping Doug out of the 'right' line.
By the time we reached the next serious obstacle, a double staircase with a wicked drop into a gap between the "stairs" we had caught up with another group of wheelers, so we broke for lunch as they bashed and throttled their way through it. We then attacked the stairs, with Jim Guld showing us how it is done, giving Mr. Ed a little extra throttle and just powering up it. The lower lifted and unlocked rigs had real problems on this one - Chen, who hasn't done gears or lockers yet (or that 1 inch body lift needed to keep those MTRs from eating up your fenders, right Chen?) made multiple assaults on the stairs, and finally gunned it through with some spotting by Jim Guld and a lot of right foot. The Howler made it through on its second try, after trying a near vertical approach the first time. Doug took a smart line and just walked his rear locked XJ right up. Both the Mitsubishi and the near stock XJ needed winching or strapping to get through. This was the only time Jim in the spacer lifted open diffed XJ needed any help in two days, a testament to his driving skill. I tried a real hard line, leaving Lucy and Susanne beside the obstacle to take pictures. It took both lockers, three tries, and a good amount of stupid pedal to make it up.
Ted poses on the double bump
After a few more minor obstacles we made it to the top and met up with the other group.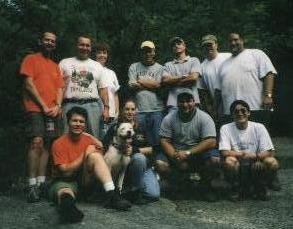 After a collective "cool truck man, whaddya got in the diffs" session, we turned around. The return run was pretty uneventful except for the constant sound of Mitsubishi parts bouncing off rocks. Doug was apparently trying to top Paul in the metal on rock department, taking all the hard lines on the downhill side and testing his skid plates. He managed to shear a skid plate bolt clean off, and bounced that nice new rear tire carrier off a few rocks as well.
We then aired back up and inspected the damage. Jim Guld had lost a front axle U joint cap at some point, so he retired from wheeling for the rest of the weekend. Doug found out about that missing bolt, and wondered aloud why a brand new front rotor, replaced only a few weeks before under a Jeep recall, was smoking all day. I had to borrow a BFH from Doug and tweak a rear control arm mount back in place.
We made it back to the hotel and discovered that Jim Guld had a new skidplate/rocker guard customer in Paul and his Mitsubishi, who had just wrecked the factory skid and factory nerfs. After a nice dinner, including perhaps too many adult beverages, we went back to our nice rooms for some well deserved and needed sleep.
---
After a minor misdirection (hey, at least I got us there, so what if it was 1/2 hour early), we met Bob and Joan in the Howler for the infamous MaBell. Bob led and I tailgunned. After a collective attack of lunch indecision, Subway finally opened, we got our sandwiches, and headed out. After airing down, we bypassed Monster Rock and headed into the woods. I was the only one to try that big mud puddle - it sunk all four 33 inch tires, but I made it. The bottom is firm. Everyone in the group except the Mitsu tried Ziggy's Staircase (maybe the new name for that obstacle that rolled the Willys last time), and most of us made it. Chen needed a lot of right foot, and I got a bit nervous watching him bounce this way and that as he inched his way up with squealing tires under full throttle.
Everyone either made or bypassed the next series of obstacles without too much problem until we got to that hill that rolled Eric's Toyota last time out. Its even more washed out now, and a real white-knuckle downhill ride. You have to cut the right hand turn very wide, which puts you very off camber for a second until the front tires realize they are supposed to turn the rig downhill. After that, its just a matter of going very, very slowly and keeping your rig in that washout rut. I discovered that even a 4:1 in the T case and 4.56s in the diffs are not slow enough, you actually need some brake.
We managed to all make it through that smaller no-bypass mud puddle to the lunch spot, where my dog discovered the twin joys of working under a Jeep and running through mud. I had to clean grease off her top side and mud off her underside before we started up again. That brought us right back to the hill that rolled Eric, and Bob just attacked it with true commitment - lining his rig up perfectly in that huge rut, and ignoring his malfunctioning tailgate, which allowed some spares and whatever else he keeps back there to spew forth onto the trail has he expertly but none too gently hammered his rig up through the washout, which now presents the only moderately sane line for this hill.
Who closed the tailgate?
Litterbug!
Don't worry, LIOR cleaned up!
Paul in the Mitsu gave it a shot, actually quite a few shots, but only managed to move around some big rocks and inflict more damage on the battered underside of his rig before he took the bypass. I was the only other wheeler in our group to try it, and made it almost all the way up - at least as far as the really hard part. When my rig decided to slide sideways and backwards as all four locked wheels spun forward I jammed on the brakes and called for a pull on my winch cable.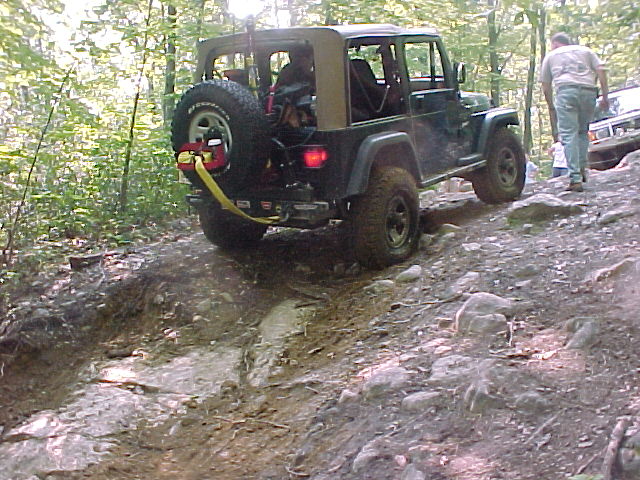 In hindsight, maybe I should have given it another shot, but sheet metal was very, very close to rock on both sides, and getting off camber when all you can see is sky is a bad thing. The angle of the cable pulled the front of my rig down into the ground as I winched, and I had bad visions of Paul DaVilla's exploding a U joint at Beacon, so I unlocked the front (I love ARBs), only gave it a little throttle, letting the winch do most of the work.
We met another group of well-equipped wheelers at that point, and those of us too young to remember such things learned that new Scouts actually came with hard metal tops. I had thought that the trade off for the bulletproof factory drivetrain was OEM body damage and a canvas roof. We made it through most everything else on the way out, and everyone creeped down Ziggy's Staircase. Chen discovered just how weak the factory gas tank skid on a TJ is, and probably lost a gallon or two worth of tank capacity on the way down. I managed to bounce my heavy gas tank skid and rear bumper off a few rocks on the way down, but pretty much everyone did that. The Mistu came within a hair of some serious body damage to a rear corner, but just managed to make it. Paul did bash a factory nerf up into the rocker a bit earlier, however. Time for some treatment at the Metal Ward. My rocker skids bashed hard off the same rocks, but the Jim Guld re-enforcement kept them off the sheetmetal.
We then made it out to the road and Monster Rock and a few brave (or crazy) souls turned around. Bob just walked right up it with just the right amount of extra throttle, and opened up that carb at the top to let us all know he was up there. The Mitsu lined up for it, but thought better and backed off after the front tires lost their grip. I stared at it just enough to know it was a bad idea, got in the rig, and headed up. I made three tries, none successful. Each time I knew I needed a bit more right foot, but I could feel the front tires bouncing around and shifting right and left, so brains won out over testosterone and I backed down.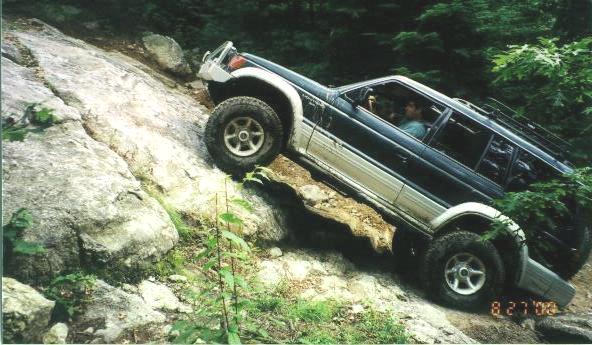 Paul's rear tires are starting to climb the Monster Rock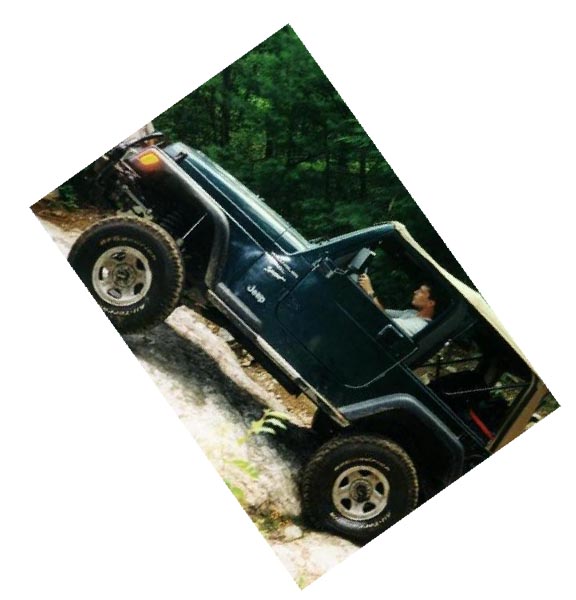 Ted's TJ in the middle
(photo corrected to show the true angle)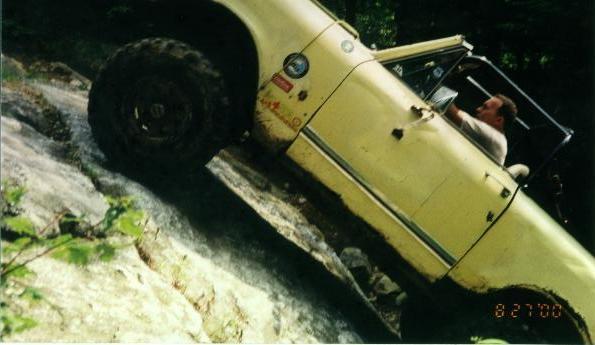 Howler nears the crest
All in all, we had a great few days of wheelin', but perhaps tame compared to the rock bashers who trekked all the way down to Tellico. Word has it that after breaking virtually everything there is to break of their trail rigs, they turned their attention to various tow vehicles and trailers and broke some things there as well. We await a full damage, I mean trail, report. Until our fearless leader can get back behind the keyboard, this is Ted & Lucy reminding you that the rubber side is supposed to point down.
-Ted
Ted & Lucy